Click on the blue f to go to our facebook page.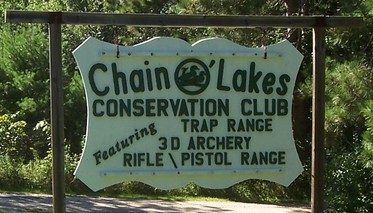 Welcome to the Chain O'Lakes Conservation Club's website. In 1947 meetings were held in King in the basement of a church. By 1949 everything was worked out and the club was formed. The first
mission of the club was to raise pheasants and trap shooting. Today the club offers: 3D Archery, Trap shooting, a rifle and pistol range and cowboy shooting. Membership is $35 per year and a PDF file is provided to download or print a membership application at bottom of page. With membership you get the gate combination to allow you to use the club grounds. Membership can also be purchased at the Minnow Bucket, E1545 County Q,Waupaca,WI. The Chain O'Lakes Conservation Club is located at E2440 Crystal Road, Waupaca, WI 54981.
CLUB WORK DAY WILL BE MAY 14, 2016
Rain Date is May 21, 2016

A COMPLETE LISTING OF CLUB RULES IS LISTED ON BACK OF YOUR MEMBERSHIP CARD AND ALSO ON THE RIFLE/PISTOL RANGE PAGE.


MEMBERSHIP FORM PDF (download & print)
(mailing address is on membership form)

Club Work Day: May 17 2014 Pictures


---